Griffin McElroy, Justin McElroy, and Travis McElroy known collectively as the McElroy brothers, started a podcast roughly eight years ago and have since spawned a comedic empire with themselves and eventually their extended family, and even turned their podcast into a television show for NBC's now defunct Seeso streaming service. The McElroy family has other highly popular podcasts such as The Adventure Zone, a podcast centered around the brothers and their father Clint McElroy playing Dungeons & Dragons and several other similar tabletop role playing games. Griffin Mcelroy is also the founding editor of Polygon, Vox's video gaming website.
My Brother, My Brother and Me has so far produced 433 episodes and continues to make more every week with each episode lasting for around one hour or so. The format of each episode is typically a comedic advice podcast in which the brothers answer questions submitted by the viewers or by questions found on the Yahoo! Answers Forum or the three brothers comedically bantering back and forth about a very wide variety of topics. The series is a professionally produced podcast distributed by the Maximum Fun Network. Some of the most common sponsors of the show have been: Extreme Restraints, Naturebox, Hulu, MeUndies, SquareSpace, Harry's, and Warby Parker.
The audience of My Brother, My Brother and Me is intended for a largely millennial audience ranging anywhere from 18 and younger to people in their mid/late 30's. As the podcast has progressed over the years, they have garnered a following of fans with their own culture revolving around popular jokes and traditions from the television show as well as the podcast. The trio even invented their own holiday several years ago famously known as Candle Nights, a fictional holiday that came about one episode while the three were discussing post-christmas blues and how they wish it would be longer, and so the 8 day long holiday was born. For the past five years the brothers have had a public celebration of the holiday in their hometown of Huntington, West Virginia where they do a live show. The fandom, culture, and inside humor of the show has a very in-depth following that involves contributions from both the brothers and fans of the show. The holiday has deeply evolved over the years going from an off-hand bit, to a fully fledged and detailed holiday that fans can celebrate:
Candlenights starts and ends for each person at different times, is about different things for each person, and is celebrated differently by each person. People from all countries of all religions and those without religion alike can celebrate their own Candlenights in their own way. The gift-giving figure of Candlenights is known as the Star King.
This is just an example of the kind of culture MBMBaM generates as well as the kind's of interest and fandoms than can arise from the podcast industry. This is also very consistent with the brothers overall established brand and theme of MBMBaM, being that the brothers try to create a fundamentally inclusive and accepting humor for all.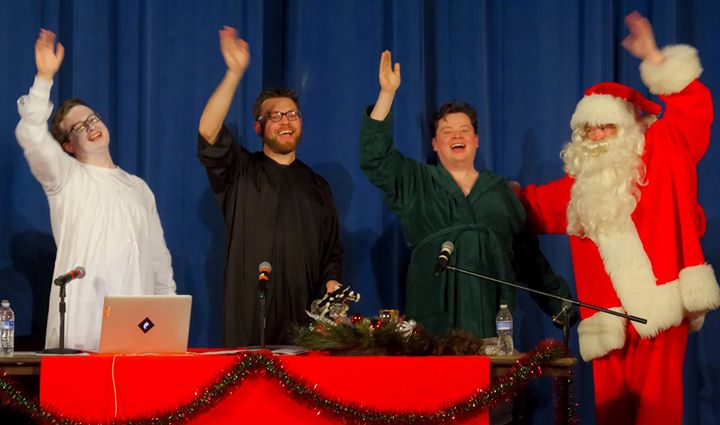 The show has a variety of segments such as "Munch Squad", a bit in which they read bizarre and absurd press releases from fast food companies, "Sad Libs" in which they take words from tragic articles and replace them with ridiculous ones, "The Money Zone", which is where they essentially play messages from their sponsors as well as from paying listeners of the show. The brothers also occasionally do live performances of these segments in Los Angeles, New York and of course their hometown of Huntington, West Virginia.
MBMBaM differs from the norm of other podcasts and radio shows in that it brings audiences together, all of whom have a very niche sense of humor and it allows audience members to feel as if they are simply hanging out with the three brothers, creating a uniquely humorous and intimate show. Similarly Sullivan stated how podcasts differ greatly from radio and is much more complex. 
To say that podcasting is essentially a method for easily distributing audio files online, while technically accurate, doesn't really capture how it has evolved as a medium with its own unique culture – (Sullivan)
Podcasting is a medium of entertainment that combines both new and old forms of media by bringing the audio only format of radio, with the internet and streaming services similar to those of Netflix, Hulu, etc. By being the unique creation it is, it allows for even more unique and powerfully original content to be created and inspire others. Podcasts are one of the most niche forms of media, accommodating each person to match their own interests. Similar to music and unlike film and television where viewers have to sit down and commit time to watching them, podcasts can be a far more mobile and accessible medium with nearly 52% of podcast listeners using their smartphone as their primary listening device.
The more intimate and close nature that podcasting brings only enhances the McElroy's likability and charisma, enveloping listeners with their brand of wacky absurdist humor in addition to their genuinely charming family rapport that they possess. This also works with other genres of podcasting such as fictional and mystery styled shows such as Alice Isn't Dead, using the closeness of audio-only media to create suspense, mystery, and fear, utilizing the audiences imagination to create powerfully striking and jarring mental images.
The McElroy brothers only continue to capture the hearts and minds of listeners everywhere, and with the growing number of podcast listeners across the world, this will certainly hold even more truth than it already does.
---
"Sponsors." My Brother, My Brother and Me Wiki, mbmbam.wikia.com/wiki/Category:Sponsors.
Usage, Price Sensitivity, Ad Acceptance |  Statista Consumer Survey 2017
"Podcast Movement: Aspirational Labor and the Formalization of Podcasting as a Cultural Industry"
"'Sawbones' Is Just More Proof the McElroy Brothers Cannot Be Stopped." Study Breaks, 18 Oct. 2018, studybreaks.com/culture/reads/mcelroy-brothers-cannot-stopped/.
"Griffin McElroy." Forbes, Forbes Magazine, http://www.forbes.com/profile/griffin-mcelroy/#a7629d4e4475.
https://itunes.apple.com/us/tv-season/my-brother-my-brother-and-me-season-1/id1231655849
https://www.portlandmercury.com/events/18826445/my-brother-my-brother-and-me
https://allevents.in/events/candlenights-2015/184144945259719